E.SAC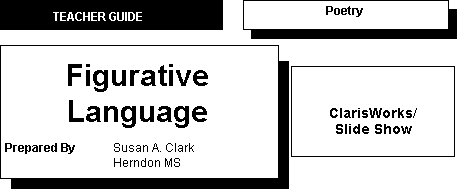 Overview

Many students have a mental block when it comes to poetry. By analyzing words, phrases and levels of meaning, the students will put the poetic interpretations back together to understand the poem. Starting with cliches, students learn what various phrases mean. This takes them from the literal meaning to a higher level of understanding.

Concepts


Students will learn to identify and explain each use of figurative language including: simile, metaphor, personification, and hyperbole.


Students will create a slide show, using a selected poem. Each frame will explain a different concept of figurative language.

Indicators

Students research the meaning of three to five cliches of their choice.


Students illustrate one cliche to add to the class book of illustrated cliches.


Students summarize the cliche's history and meaning and add this summary to their illustrations.


Students learn to identify and classify the cliches into the types of figurative language.


Students explain the meaning of a poem by first analyzing and defining the words and phrases.


Students create a slide show in ClarisWorks, detailing their poetry analyses to be presented to the class.

Precomputer

Students research the history and meaning of selected cliches.


Each student will illustrate a cliche of their choice, including the cliche's meaning.


Students, in small groups, will identify the various types of figurative language from a poem of their choice.


Students will create the layout and content of their individual slides, each on a separate piece of paper. Text, graphics, font, color, and background choices must be included in the draft.

On the computer


In ClarisWorks, students will compose their slide shows. This will be done during the assigned computer lab days. Each student in the group will have equal responsibility for the final product.


Each group will generate five questions related to the poem analyzed.

Postcomputer

Students will present their slide shows to the class using Simulscan from the computer.


Students will be tested on the student-generated questions.

Related resources

Dictionary of Cliches (class set)